The Journey Cruise with SABC 3 to Portuguese Island (23 - 26 Feb 2018)

The ship departs from South Africa, Durban harbour on Friday the 23rd of February 2018 and cruises to Portuguese Island in Mozambique. It then makes its way back to Durban arriving on Monday the 26th of February 2018. The Journey Cruise is an inspirational weekend away staged on the luxury MSC Sinfonia cruise ship, which will offer like-minded individuals a self-discovery and enrichment opportunity to renew their sense of motivation and develop personal and professional insight while sailing across the Indian Ocean from Durban to Portuguese Island back to Durban.
This is an opportunity for you to come and engage in thought-provoking conversations with some of South Africa's eminent visionaries, innovators, leaders and influential celebrity personalities from all walks of life, in various industries including Business, Politics, Finance, Sport, Entertainment, the Arts and more.
It is very excited to announce that SABC3's talent from the vibrant, popular shows such as, Trending SA and Real Talk with Anele will be on the ship steering the talks and interviewing guests giving you the opportunity to engage with them on a one-on-one. The sessions promises intellectually stimulating, entertaining topical discussions and talk sessions with SA's most prominent and influential personalities.

Vusi Thembekwayo a young business mogul and one of the most sought after professional public speakers in South Africa, will also join The Journey Cruise. He is a globally renowned revolutionary catalyst for change in business with expertise in sales, strategy and leadership. Vusi has had prominent features on various SABC3 shows such as Real Talk with Anele, Trending SA, Mancave SA and Expresso. We are incredibly excited to have the 'Rockstar of Public Speaking' on board for The Journey Cruise 2018. 
Highlights include:
All meals onboard (breakfast, lunch, afternoon snack, dinner & midnight snack) 4 restaurants to choose from
Pizza station, burger station and buffet open 20 hours a day
Daily onboard activities to choose from
World class live entertainment at various venues every night
Island beach excursions to Portuguese Island and Pomene Bay (weather permitting), with beach activities and beach bar-b-que
On board facilities include 4 Restaurants, 10 Bars/Lounges, 1 Outdoor Bar, 2 Swimming Pools, 2 Spa Baths, Spa/Relax area, Gym & Sports activities, Theatre, Casino, Discotheque, Games room, Shopping area, Photo Shop & Gallery, Library, Children's Playroom, Teenagers Club.

CRUISE DETAILS
Itinerary
Day
Date
Port
Arrival
Departure
1
Fri, 23 Feb
Durban
....
14:00
2
Sat, 24 Feb
Portuguese Island [Overnight]
09:00
....
3
Sun, 25 Feb
Portuguese Island
....
07:00
4
Mon, 26 Feb
Durban
07:00
....
*Information subject to change as a consequence of final berth or anchorage effective availability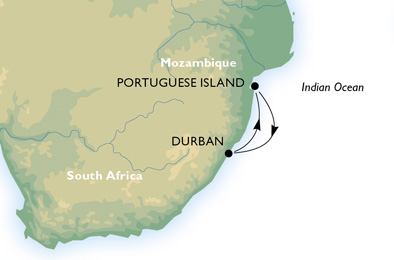 Inside Cabin layout (view our photo gallery)

Cabins have the following amenities: 2 single beds that can be converted into a double bed (on request), spacious wardrobe, bathroom with shower, interactive TV, telephone, Internet connection (payable), mini bar, safe, air-conditioning.

Further facilities and activities on the ship include:
Quality time at the pool
Teatro San Carlo – 5 star theatre production and shows – all included in the costs
Jogging track, shuffleboard and mini-golf facilities
Gymnasium
Beauty salon
Hairdresser
Karaoke
Spa facilities
A solarium
San Remo Casino
Cruise Information | Click here

MSC Cruises Cruise Schedule | Click here
Contact us for more details
Tel: +27 (0) 21 794 1619
email: info@mycapetownstay.com
Cancellation Policy
Once the booking has been made, you will have 48 hours to make a non-refundable R 3,500 per cabin deposit. Booking balance will be due 80 days prior to departure. For bookings where we are already within 80 days prior to departure, full payment will be required within 48 hours. 

Cancellation penalties: Deposit 100% non-refundable / 79-60 days prior to sailing 50% of cruise fare / Less than 60 days before sailing 100% of the cruise fare.
Children policy
Up to 2 children under 18 sharing a cabin with their parents or responsible adults, cruise free but only pay for the applicable Port, Baggage and Service charges (R945 per child 13-17yrs and R771 per child 2-12yrs) . This offer is subject to the availability of 4 berth cabins. Also applicable with 2 children under 12 years in Balcony Suites.