Stokvel Lifestyle Cruise | 3 nights | Durban to Portuguese Island (Mozambique) and back (31 Jan - 03 Feb 2020)
Whether in a Stokvel or not, join the legendary Glen Lewis, Bambo Johnson, Reggie Philander and many more on a luxury cruise from Durban to the Portuguese Islands departing 31st January till 3rd February 2020.

Prepare for the best time of your life with great entertainment by SA's finest artists and comedians onboard just steps away from your own private accommodations with full service amenities!

Get onboard and immerse yourself in a community unlike any other in the scene, where you can participate in artist-hosted activities, theme nights, and a private island beach party in paradise.

The ship departs from South Africa, Durban harbour on Friday the 31st of January 2020 and cruises to Portuguese Island in Mozambique. It then makes its way back to Durban arriving on Monday the 3rd of February 2020. Along the way enjoy a day on the beach, filled with activities and a beach party that promises to be one you won't easily forget.

For the first time in South African waters let's welcome MSC Orchestra.

The second ship in MSC Cruises' Musica Class, MSC Orchestra debuted in 2007. Like other ships in the MSC Cruises fleet MSC Orchestra is designed to offer an affordable cruise vacation. MSC Cruises is based out of Italy and their pride in this heritage is on full display aboard the MSC Orchestra. One place you can truly experience a sense of Italy, no matter where your ship is docked, is at the ship's dining venues. Of course you'll be served delicious pasta and hearty meaty meals, but you will also be treated to special Italian classics like pizza from the pizzeria and gelato in the gelataria. For adults, the treats continue in the wine bar (Italy is one of the largest wine producing countries in the world) and the cigar bar. It'll be hard to put your fork down, but the MSC Orchestra also offers a ton of fun activities to try, from the casino to the miniature golf course.

In the end, a holiday – whether it's a cruise holiday or not – it about getting away from the everyday. And cruise companies are recognising that for many of their guests, getting away from it all often means partying it up. Cheers to that. 
Highlights include:
All meals onboard (breakfast, lunch, afternoon snack, dinner & midnight snack) a range of restaurants to choose from
Pizza station, burger station and buffet open 20 hours a day
Daily onboard activities to choose from
World class live entertainment at various venues every night
Island beach excursions to Portuguese Island (weather permitting), with beach activities and beach bar-b-que
Entertainment Line-up: Glen Lewis, Bambo Johnson, Reggie Philander and many more...


CRUISE DETAILS
Itinerary
Day
Date
Port
Arrival
Departure
1
Fri, 31 Jan
Durban
....
15:00
2
Sat, 01 Feb
Portuguese Island [Overnight]
08:00
....
3
Sun, 02 Feb
Portuguese Island
....
07:00
4
Mon, 03 Feb
Durban
07:00
....

*Information subject to change as a consequence of final berth or anchorage effective availability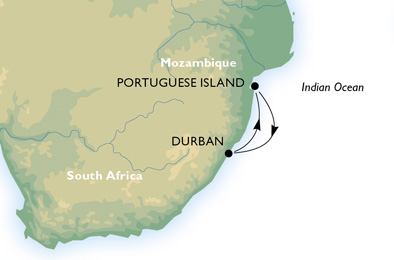 On Board | Combining spacious, elegant interiors with the variety for which the MSC Cruises Musica Class is renowned, MSC Orchestra promises your dream cruise. Because life aboard can be just what you want it to be.
MSC Orchestra also takes you on an exciting culinary journey, ranging from the Shanghai Chinese Restaurant with authentic Dim Sum specialties to the Four Seasons gourmet Italian dining experience and La Piazzetta, where you can discover the finest pizza outside Naples.
The designer venues on this ecological ship make every moment a special occasion, whether dancing to the live music in the leopard-style Savannah Bar, tempting lady luck in the Palm Beach Casino or catching a spectacular show in the equally spectacular Covent Garden Theatre.
Cabins have the following amenities: 2 single beds that can be converted into a double bed (on request), spacious wardrobe, bathroom with shower, interactive TV, telephone, Internet connection (payable), mini bar, safe, air-conditioning.

Contact us for bookings
Tel: +27 (0) 21 794 1619
email: info@mycapetownstay.com