Oh Ship Cruise | 3 nights | Durban to Portuguese Island (Mozambique) and back (19 - 22 Feb 2021)

Picture yourself in one of the trendiest Party Cruise in South Africa, alongside your closest friends surrounded by the Mzantsi's hottest people, sipping your favourite drink and dancing under the sun.

Join DJ Fresh and Euphonik for the 8th Oh Ship Cruise onboard the MSC Orchestra and kick off your December holidays with this 3 nights of non-stop party while enjoying the hottest tunes from some of SA's most talented DJ's. 

Prepare for the best time of your life with top house music artists performing onboard just steps away from your own private accommodations with full service amenities!

Get onboard and immerse yourself in a community unlike any other in the scene, where you can participate in artist-hosted activities, theme nights, and a private island beach party in paradise.

The ship departs from South Africa, Durban harbour on Friday the 19th of February 2021 and cruises to Portuguese Island in Mozambique. It then makes its way back to Durban arriving on Monday the 22nd of February 2021. Along the way enjoy a day on the beach, filled with activities and a beach party that promises to be one you won't easily forget.

For the first time in South African waters let's welcome MSC Orchestra.

In the end, a holiday – whether it's a cruise holiday or not – it about getting away from the everyday. And cruise companies are recognising that for many of their guests, getting away from it all often means partying it up. Cheers to that. 
Highlights include:
All meals onboard (breakfast, lunch, afternoon snack, dinner & midnight snack) a range of restaurants to choose from
Pizza station, burger station and buffet open 20 hours a day
Daily onboard activities to choose from
World class live entertainment at various venues every night
Island beach excursions to Portuguese Island (weather permitting), with beach activities and beach bar-b-que
Entertainment Line-up: To Be Conformed
NB: 2019 Oh Ship Cruise was sold out so don't delay! BOOK NOW before it is too late!
CRUISE DETAILS
Itinerary
Day
Date
Port
Arrival
Departure
1
Fri, 19 Feb
Durban
....
15:00
2
Sat, 20 Feb
Portuguese Island [Overnight]
08:00
....
3
Sun, 21 Feb
Portuguese Island
....
07:00
4
Mon, 22 Feb
Durban
07:00
....

*Information subject to change as a consequence of final berth or anchorage effective availability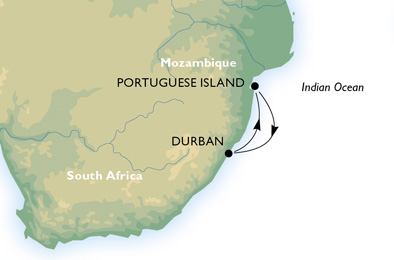 On Board | Combining spacious, elegant interiors with the variety for which the MSC Cruises Musica Class is renowned, MSC Musica promises your dream cruise. Because life aboard can be just what you want it to be.
MSC Musica is a contemporary ship with decor that blends tasteful design with timeless elegance. Experience its entertainment venues, delicious cuisine, and friendly hospitality for a vacation that you will never forget.
The ship has 12 passenger decks and 1,275 cabins. The majority of the cabins on this ship are balconies where you can enjoy your first cup of coffee in the morning with your own personal view of the ocean. The outdoor decks are constantly buzzing as passengers lounge poolside, get physical at the Tennis Court or grab drinks at one of the outdoor bars. Inside the MSC Musica glistens and passengers can choose to dress up or down for dinner at the Kaito sushi bar or the L'Oleandro Main Dining Room. At night the ship is filled with fun-loving people who dance at the disco, enjoy a show at the theatre and play the slots.
Cabins have the following amenities: 2 single beds that can be converted into a double bed (on request), spacious wardrobe, bathroom with shower, interactive TV, telephone, Internet connection (payable), mini bar, safe, air-conditioning.

Contact us for bookings
Tel: +27 (0) 21 794 1619
email: info@mycapetownstay.com
Once the booking has been made, you will have 48 hours to make a non-refundable R 3,500 per cabin deposit. Booking balance will be due 80 days prior to departure. For bookings where we are already within 80 days prior to departure, full payment will be required within 48 hours. 

Cancellation penalties: Deposit 100% non-refundable / 79-60 days prior to sailing 50% of cruise fare / Less than 60 days before sailing 100% of the cruise fare.
Children are not allowed on this cruise.
CHANGES IN THE CRUISE, TRAVEL ROUTE OR PORTS:
1 The Cruise Ship is scheduled to travel the route ("Travel Route") and stop at the ports of call ("Ports") specified in the Cruise Booking which you have booked.
2 The Cruise and Travel Route shall be deemed to have commenced when you have boarded the Cruise Ship at the scheduled or substituted embarkation port, have cleared customs and immigration and have passed through the reception formalities to board the ship, notwithstanding when ocean navigation from the port commences. The Cruise and Travel Route shall be deemed to have been completed when you disembark at the final port of destination.
3 In the case of a repositioning or other international non-coastal voyage or cruise, or in the event of a package or multi-modal inclusive travel booking, then the Cruise Travel Route shall be deemed to have commenced when you have cleared through passport control and entered the international departure area in the country of your domicile or the departure point for your pre-cruise travel arrangements if covered in your booking, for the commencement of international travel by air, train or other means of conveyance in a multi-modal package booking.
4 The operation of the Cruise Ship is affected by weather and sea conditions, mechanical problems, duty to assist ships in distress, instructions of the Port and other authorities relating to departure and/or arrival and/or stoppages, the availability of Port facilities, and other factors which may be beyond MSC's control. MSC cannot accept liability or pay compensation where performance (prompt or otherwise) of this agreement is prevented or affected by factors beyond MSC's control.
5 For these reasons set out in clause 17.4, the date and/ or time at which the Cruise Ship is scheduled to sail and land are approximate only and may be delayed and subject to change.
6 MSC does not guarantee that the Cruise Ship will be able to depart the port of embarkation on or at the scheduled date or time, or at all; and/or call or stop at the Ports at which it is scheduled to call or stop; and/or that you will be able to go ashore on a planned shore excursion during the scheduled Travel Route; and/or that the Cruise Ship will travel along the scheduled Travel Route. MSC may change the Travel Route and/or Ports at which the Cruise Ship calls or stops if the master of the Cruise Ship ("the Master") considers it necessary to do so for any of the reasons set out above.
7 If for any reason, the Cruise Ship is unable to sail the Travel Route, MSC may transfer you to another ship or to any other mode of transport bound for the destination of your Cruise. 17.8 If the Port from which you are scheduled to board the Cruise Ship is changed by MSC, MSC will at its cost arrange for you to be transported to the Port at which you are required to board the Cruise Ship.