Finesse Bootreis | 3 nagte | Durban na Portugese Eilande en terug (01 - 04 March 2019)
Skop daai stiletto's uit, maak jou hare los en pak jou prettigste plakkies in, want dis tyd om saam met die girls fees te vier. Finesse se #netGIRLS-bootreis is vanaf 1 tot 4 Maart 2019 op die splinternuwe MSC Musica, en ons vaar van Durban na die Portugese eilande! In die groter wêreldklasteater bied ons 'n inspirerende musiekproduksie aan eksklusief vir  #netGIRLS-bootreis gaste met drie blondines en drie donkerkoppe. Gretha Wiid, Lianie May, Lindi Delport, Tracey Lange, Nádine en Monique Steyn is die sterre wat optree en sal seker maak dat die girls lag, huil, hoendervleis kry en die lewe met nuwe energie aanpak. 
As deel van die Finesse #netGIRLS-pakket kry jy 'n T-hemp, geskenkpak en toegang tot ons kunstenaars se eksklusiewe vertonings.
Highlights include:
All meals onboard (breakfast, lunch, afternoon snack, dinner & midnight snack) a range of restaurants to choose from
Pizza station, burger station and buffet open 20 hours a day
Daily onboard activities to choose from
World class live entertainment at various venues every night
Island beach excursions to Portuguese Island (weather permitting), with beach activities and beach bar-b-que

CRUISE DETAILS
Itinerary
Day
Date
Port
Arrival
Departure
1
Fri, 01 Mar
Durban
....
15:00
2
Sat, 02 Mar
Portuguese Island [Overnight]
09:00
....
3
Sun, 03 Mar
Portuguese Island
....
07:00
4
Mon, 04 Mar
Durban
07:00
....

*Information subject to change as a consequence of final berth or anchorage effective availability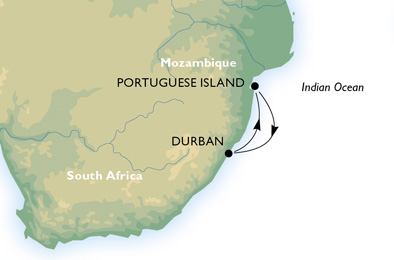 On Board | Enjoy a luxury cruising experience aboard the MSC Musica includes spacious staterooms and suites; the serene Aloha spa with meditation area and expansive fitness center; dining venues that include the luxurious Le Maxim dining room or the exotic Kaito sushi bar, and 10 clubs/bars, such as L'enoteca wine bar or Havana Club cigar room. The elegant design and spacious facilities on MSC Musica also encompass an Internet Café, library, casino and shopping arcade. And for more active pursuits, she offers a tennis court, jogging track and two swimming pools, plus a pool and play area for kids. For more info click here
Cabins have the following amenities: 2 single beds that can be converted into a double bed (on request), spacious wardrobe, bathroom with shower, interactive TV, telephone, Internet connection (payable), mini bar, safe, air-conditioning.


CONTACT US
Tel: +27 (0) 21 794 1619
email: info@mycapetownstay.com