Finesse Bootreis | 3 nagte | Durban na Portugese Eilande en terug (12 - 15 Maart 2021)

#netGIRLS 2021: Comedy & Country

Skop daai stiletto's uit, maak jou hare los en pak jou prettigste plakkies in, want dis tyd om saam met die girls fees te vier. Vrydag 12 Maart tot Maandag 15 Maart 2021 doen FINESSE dit vir die 11de keer! Bring almal wat al vorige jare saam met jou op die #netGIRLS-bootreis gekuier het, en kom geniet die Comedy & Country bootreis saam met ons! 

Die musiekproduksie, aktiwiteite & vertonings word spesiaal vir jou geskep en jy kan die glanspersoonlikhede aan boord ontmoet. Jy kan onder die sterre dans, smul aan egte Italiaanse roomys of sommer net op 'n sonbed le en boeklees. Dis net wat jy en jou vriendinne nodig het. 
Highlights include:
All meals onboard (breakfast, lunch, afternoon snack, dinner & midnight snack) a range of restaurants to choose from
Pizza station, burger station and buffet open 20 hours a day
Daily onboard activities to choose from
World class live entertainment at various venues every night
Island beach excursions to Portuguese Island (weather permitting), with beach activities and beach bar-b-que
CRUISE DETAILS
Itinerary
Day
Date
Port
Arrival
Departure
1
Fri, 12 Mar
Durban
....
15:00
2
Sat, 13 Mar
Portuguese Island [Overnight]
08:00
....
3
Sun, 14 Mar
Portuguese Island
....
07:00
4
Mon, 15 Mar
Durban
07:00
....

*Information subject to change as a consequence of final berth or anchorage effective availability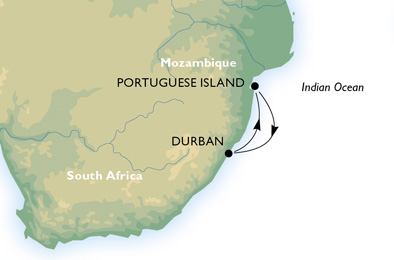 On Board | Combining spacious, elegant interiors with the variety for which our Musica Class is renowned, MSC Orchestra promises your dream cruise  includes spacious staterooms and suites; superb Body and Mind Spa, with pampering Turkish baths, saunas and a myriad of magical massages. Active types have a Sports Centre with Gym, 5 stunning pools and even a jogging track. MSC Orchestra also takes you on an exciting culinary journey, ranging from the Shanghai Chinese Restaurant with authentic Dim Sum specialties to the Four Seasons gourmet Italian dining experience and La Piazzetta, where you can discover the finest pizza outside Naples.The designer venues on this ecological ship make every moment a special occasion, whether dancing to the live music in the leopard-style Savannah Bar, tempting lady luck in the Palm Beach Casino or catching a spectacular show in the equally spectacular Covent Garden Theatre. Kids can go wild to their heart's content in the Jungle Adventure playroom, while teens get their own Teen's Club. Whatever your age and dreams, you can be sure they'll come true for you, your friends and family on a cruise like no other with MSC Orchestra. For more info click here
Cabins have the following amenities: 2 single beds that can be converted into a double bed (on request), spacious wardrobe, bathroom with shower, interactive TV, telephone, Internet connection (payable), mini bar, safe, air-conditioning.

CONTACT US
Tel: +27 (0) 21 794 1619
email: info@mycapetownstay.com 
Once the booking has been made, you will have 48 hours to make a non-refundable R 3,500 per cabin deposit. Booking balance will be due 80 days prior to departure. For bookings where we are already within 80 days prior to departure, full payment will be required within 48 hours. 

Cancellation penalties: Deposit 100% non-refundable / 79-60 days prior to sailing 50% of cruise fare / Less than 60 days before sailing 100% of the cruise fare.
Up to 2 children under 18 sharing a cabin with their parents or responsible adults, cruise free but only pay for the applicable Port, Baggage and Service charges (R957 per child 13-17yrs and R780 per child 2-12yrs) . This offer is subject to the availability of 4 berth cabins. Also applicable with 2 children under 12 years in Balcony Suites.
CHANGES IN THE CRUISE, TRAVEL ROUTE OR PORTS:
1 The Cruise Ship is scheduled to travel the route ("Travel Route") and stop at the ports of call ("Ports") specified in the Cruise Booking which you have booked.
2 The Cruise and Travel Route shall be deemed to have commenced when you have boarded the Cruise Ship at the scheduled or substituted embarkation port, have cleared customs and immigration and have passed through the reception formalities to board the ship, notwithstanding when ocean navigation from the port commences. The Cruise and Travel Route shall be deemed to have been completed when you disembark at the final port of destination.
3 In the case of a repositioning or other international non-coastal voyage or cruise, or in the event of a package or multi-modal inclusive travel booking, then the Cruise Travel Route shall be deemed to have commenced when you have cleared through passport control and entered the international departure area in the country of your domicile or the departure point for your pre-cruise travel arrangements if covered in your booking, for the commencement of international travel by air, train or other means of conveyance in a multi-modal package booking.
4 The operation of the Cruise Ship is affected by weather and sea conditions, mechanical problems, duty to assist ships in distress, instructions of the Port and other authorities relating to departure and/or arrival and/or stoppages, the availability of Port facilities, and other factors which may be beyond MSC's control. MSC cannot accept liability or pay compensation where performance (prompt or otherwise) of this agreement is prevented or affected by factors beyond MSC's control.
5 For these reasons set out in clause 17.4, the date and/ or time at which the Cruise Ship is scheduled to sail and land are approximate only and may be delayed and subject to change.
6 MSC does not guarantee that the Cruise Ship will be able to depart the port of embarkation on or at the scheduled date or time, or at all; and/or call or stop at the Ports at which it is scheduled to call or stop; and/or that you will be able to go ashore on a planned shore excursion during the scheduled Travel Route; and/or that the Cruise Ship will travel along the scheduled Travel Route. MSC may change the Travel Route and/or Ports at which the Cruise Ship calls or stops if the master of the Cruise Ship ("the Master") considers it necessary to do so for any of the reasons set out above.
7 If for any reason, the Cruise Ship is unable to sail the Travel Route, MSC may transfer you to another ship or to any other mode of transport bound for the destination of your Cruise. 17.8 If the Port from which you are scheduled to board the Cruise Ship is changed by MSC, MSC will at its cost arrange for you to be transported to the Port at which you are required to board the Cruise Ship.