Durban to Cape Town Cruise | 3 nights (07 - 10 January 2019)

For the first time in South African waters let's welcome MSC Musica.

Enjoy an exciting 3 night cruise on board the luxury MSC Musica cruise ship to Cape Town. The ship leaves Durban on Monday 7th January 2019 and cruise to Cape Town, arriving on Thursday the 10th January 2019.
MSC Musica is the magnificent and very modern MSC Cruises most recently refurbished in 2016 (it debuted in 2006). Discover this big cruise ship, which offers the very best in relaxing and in cruising comfort: steaming sauna, bubbling whirlpools, well-equipped gym as well as the elegant wine-tasting room, the original sushi bar and the tone is set on the welcoming atmosphere. Most of the cabins have balconies, ideal for relaxing and enjoying your memorable holiday.
Come and cruise at the very best time to sail as the seas are calm and the weather sunny, ensuring the best possible setting for the best possible experience.
Highlights include:
All meals onboard (breakfast, lunch, afternoon snack, dinner & midnight snack) 4 restaurants to choose from
Pizza station, burger station and buffet open 20 hours a day
Daily onboard activities to choose from
World class live entertainment at various venues every night

CRUISE DETAILS
Ship: MSC Musica
Departing from: Durban
Ports of call: Durban, Cape Town
Duration: 4 Days / 3 Nights
Itinerary
Day
 
Port
Arrival
Departure
Activity*
Day 1
Mon, 07 Jan
Durban
....
18:00
Docked
Day 2
Tue, 08 Jan
At Sea
....
....
...
Day 3
Wed, 09 Jan
At Sea
....
....
...
Day 4
Thu, 10 Jan
Cape Town
08:00
....
Docked

*Information subject to change as a consequence of final berth or anchorage effective availability.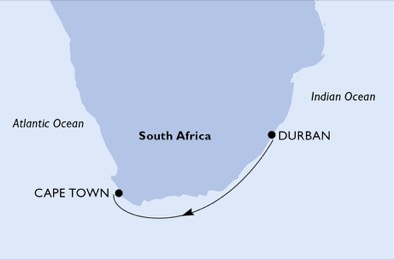 On Board | Enjoy a luxury cruising experience aboard the MSC Musica includes spacious staterooms and suites; the serene Aloha spa with meditation area and expansive fitness center; dining venues that include the luxurious Le Maxim dining room or the exotic Kaito sushi bar, and 10 clubs/bars, such as L'enoteca wine bar or Havana Club cigar room. The elegant design and spacious facilities on MSC Musica also encompass an Internet Café, library, casino and shopping arcade. And for more active pursuits, she offers a tennis court, jogging track and two swimming pools, plus a pool and play area for kids. For more info click here
Cabins have the following amenities: 2 single beds that can be converted into a double bed (on request), spacious wardrobe, bathroom with shower, interactive TV, telephone, Internet connection (payable), mini bar, safe, air-conditioning.

Contact us for bookings
Tel: +27 (0) 21 794 1619
email: info@mycapetownstay.com