Cruise to Portuguese Island (Mozambique) 

For the first time in South African waters let's welcome MSC Orchestra.
Discover this big cruise ship, which offers the very best in relaxing and in cruising comfort: steaming sauna, bubbling whirlpools, well-equipped gym as well as the elegant wine-tasting room, the original sushi bar and the tone is set on the welcoming atmosphere. Most of the cabins have balconies, ideal for relaxing and enjoying your memorable holiday.
Come and cruise at the very best time to sail as the seas are calm and the weather sunny, ensuring the best possible setting for the best possible experience.
Highlights include:
All meals onboard (breakfast, lunch, afternoon snack, dinner & midnight snack) 4 restaurants to choose from
Pizza station, burger station and buffet open 20 hours a day
Daily onboard activities to choose from
World class live entertainment at various venues every night
Island beach excursions to Portuguese Island (weather permitting), with beach activities and beach bar-b-que


CRUISE DETAILS
Cruise Ship: MSC Orchstra
Departing from: Durban
Ports of call: Durban, Portuguese Island (Mozambique)
Duration: 4 days / 3 nights

Boarding dates to choose from: 
- 21 November 2019
- 06 December 2019
- 13 December 2019
- 20 December 2019
- 24 January 2020
- 31 January 2020
- 07 February 2020
- 14 February 2020
- 21 February 2020
- 28 February 2020
- 06 March 2020
- 13 March 2020
- 20 March 2020
Itinerary
Day
Week day
Port
Arrival
Departure
1
Friday
Durban
....
15:00
2
Saturday
Portuguese Island [Overnight]
9:00
....
3
Sunday
Portuguese Island
....
7:00
4
Monday
Durban
7:00
....

*Information subject to change as a consequence of final berth or anchorage effective availability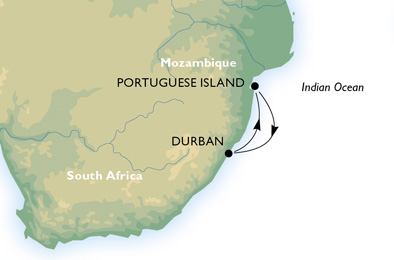 On Board | Combining spacious, elegant interiors with the variety for which our Musica Class is renowned, MSC Orchestra promises your dream cruise  includes spacious staterooms and suites; superb Body and Mind Spa, with pampering Turkish baths, saunas and a myriad of magical massages. Active types have a Sports Centre with Gym, 5 stunning pools and even a jogging track. MSC Orchestra also takes you on an exciting culinary journey, ranging from the Shanghai Chinese Restaurant with authentic Dim Sum specialties to the Four Seasons gourmet Italian dining experience and La Piazzetta, where you can discover the finest pizza outside Naples.The designer venues on this ecological ship make every moment a special occasion, whether dancing to the live music in the leopard-style Savannah Bar, tempting lady luck in the Palm Beach Casino or catching a spectacular show in the equally spectacular Covent Garden Theatre. Kids can go wild to their heart's content in the Jungle Adventure playroom, while teens get their own Teen's Club. Whatever your age and dreams, you can be sure they'll come true for you, your friends and family on a cruise like no other with MSC Orchestra.
Cabins have the following amenities: 2 single beds that can be converted into a double bed (on request), spacious wardrobe, bathroom with shower, interactive TV, telephone, Internet connection (payable), mini bar, safe, air-conditioning.

Contact us for bookings
Tel: +27 (0) 21 794 1619
email: info@mycapetownstay.com