Cruise Experience | 2 nights | Cape Town to Nowhere (18 - 20 January 2019)

For the first time in South African waters let's welcome MSC Musica.

Enjoy an exciting 2 night cruise on the MSC Musica in Cape Town. The ship departs from Cape Town harbour on Friday the 18th of Jan 2018 and cruises to Nowhere in the Atlantic Ocean, and arrives back in Cape Town on Sunday, the 20th of Jan 2018. 
You might be asking yourself "just where exactly is nowhere?". Rest assured that nowhere is somewhere, indeed: This cruise simply go out to sea for a short sailing that's devoid of ports, where the main destination is the ship.
Our 2 night cruises offer the perfect weekend getaway experience for those who are short on time, but in need of a perfect fun filled break!

Ideal for first time cruisers, for couples or families wanting a quick escape, or for those wanting to celebrate their own personal occasions on board like bachelor parties or milestone birthdays, a 2 night cruise to nowhere allows for a fabulous away from home experience.
Overall, these quick cruise-to-nowhere escapes pack in plenty of fun, allowing cruisers to leave it all behind on land and get lost at sea for a carefree 3 day trip.
MSC Musica is the magnificent and very modern MSC Cruises most recently refurbished in 2016 (it debuted in 2006). Discover this big cruise ship, which offers the very best in relaxing and in cruising comfort: steaming sauna, bubbling whirlpools, well-equipped gym as well as the elegant wine-tasting room, the original sushi bar and the tone is set on the welcoming atmosphere. Most of the cabins have balconies, ideal for relaxing and enjoying your memorable holiday.
Come and cruise at the very best time to sail as the seas are calm and the weather sunny, ensuring the best possible setting for the best possible experience.
Highlights include:
All meals onboard (breakfast, lunch, afternoon snack, dinner & midnight snack) 4 restaurants to choose from
Pizza station, burger station and buffet open 20 hours a day
Daily onboard activities to choose from
World class live entertainment at various venues every night
 
CRUISE DETAILS
Ship: MSC Musica
Departing from: Cape Town
Ports of call: Cape Town
Duration: 3 Days / 2 Nights


Itinerary
Day
Date
Port
Arrival
Departure
1
Fri, 18 Jan
Cape Town
....
16:00
2
Sat, 19 Jan
At Sea
....
....
3
Sun, 20 Jan
Cape Town
08:00
....
 
*Information subject to change as a consequence of final berth or anchorage effective availability.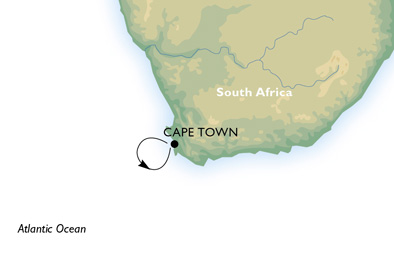 On Board | Enjoy a luxury cruising experience aboard the MSC Musica includes spacious staterooms and suites; the serene Aloha spa with meditation area and expansive fitness center; dining venues that include the luxurious Le Maxim dining room or the exotic Kaito sushi bar, and 10 clubs/bars, such as L'enoteca wine bar or Havana Club cigar room. The elegant design and spacious facilities on MSC Musica also encompass an Internet Café, library, casino and shopping arcade. And for more active pursuits, she offers a tennis court, jogging track and two swimming pools, plus a pool and play area for kids. For more info click here
Cabins have the following amenities: 2 single beds that can be converted into a double bed (on request), spacious wardrobe, bathroom with shower, interactive TV, telephone, Internet connection (payable), mini bar, safe, air-conditioning.


CONTACT US
Tel: +27 (0) 21 794 1619
email: info@mycapetownstay.com