Bok Radio Cruise | 2 nights | Cape Town to Nowhere (02 - 04 Jan 2021)

Bok Radio and MSC cruise teamed up again in 2021 to offer a music-filled cruise in Cape Town. Join the Bok Radio team along with Afrikaans artists on a 2 night cruise. Bok Radio Cruise promises to be an experience of a lifetime for all who enjoy the Afrikaans Music Industry. Departing on the 02nd of Jan 2021 from Cape Town harbour on the luxury MSC Opera cruise ship. 

Enjoy a luxury cruise ship that will surprise you, offering you an extensive range of on-board facilities in a contemporary environment. On board you will find the very best highly qualified staff, 5 star cuisine and a comprehensive array of fitness equipment, spa treatments and more. The cruise will arrive back in Cape Town harbour on the 04th of Jan 2021.
Highlights include:
All meals onboard (breakfast, lunch, afternoon snack, dinner & midnight snack) 4 restaurants to choose from
Pizza station, burger station and buffet open 20 hours a day
Daily onboard activities to choose from
World class live entertainment at various venues every night
Meet the Bok Radio team along with Afrikaans guest artists 
2021 Entertainment: To be advise!
The team from Bok Radio will also make sure that everyone onboard has the time of their life!

NB: 2020 Bok Radio Cruise was sold out so don't delay! BOOK NOW before it is too late!


Itinerary
Day
Date
Port
Arrival
Departure
1
Sat Jan 02
Cape Town, South Africa
-
16:00
2
Sun Jan 03
Day at sea
-
-
3
Mon Jan 04
Cape Town, South Africa
08:00
16:00
*Information subject to change as a consequence of final berth or anchorage effective availability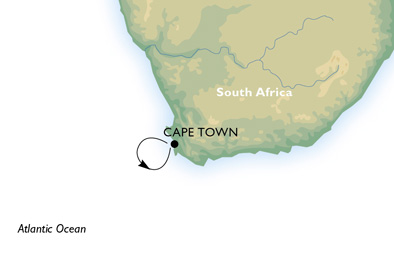 On Board | MSC Opera cruise ship certainly lives up to her name - classic, grand, opulent - and really is a luxury cruise ship with something to sing about! A true sense of grandeur and spaciousness prevails on the Opera, one of MSC Cruises' most welcoming cruise ships. The fine woodwork, marble floors, vibrant fabrics and panoramic windows with dramatic sea views, create the perfect environment for a multi-cultural cruise experience on the Opera. An experience accompanied by fine Italian and international cuisine and excellent resort facilities.
To travel on the Opera is to experience the best of old-fashioned elegance with the best of modern home comforts. Once onboard the Opera you can look forward to a truly magnificient experience: enjoy an espresso at the coffee bar or indulge in a typical handmade Italian treat at the ice cream bar.
Whatever your age and dreams, you can be sure they'll come true for you, your friends and family on a cruise like no other with MSC Opera. For more info click here
Cabins have the following amenities: 2 single beds that can be converted into a double bed (on request), spacious wardrobe, bathroom with shower, interactive TV, telephone, Internet connection (payable), mini bar, safe, air-conditioning.
Contact us for bookings
Tel: +27 (0) 21 794 1619
email: info@mycapetownstay.com
Once the booking has been made, you will have 48 hours to make a non-refundable R 3,500 per cabin deposit. Booking balance will be due 80 days prior to departure. For bookings where we are already within 80 days prior to departure, full payment will be required within 48 hours. 

Cancellation penalties: Deposit 100% non-refundable / 79-60 days prior to sailing 50% of cruise fare / Less than 60 days before sailing 100% of the cruise fare.
Up to 2 children under 18 sharing a cabin with their parents or responsible adults, cruise free but only pay for the applicable Port, Baggage and Service charges (R1,100 per child) . This offer is subject to the availability of 4 berth cabins. Also applicable with 2 children under 5 years in Balcony Cabins.
CHANGES IN THE CRUISE, TRAVEL ROUTE OR PORTS:
1 The Cruise Ship is scheduled to travel the route ("Travel Route") and stop at the ports of call ("Ports") specified in the Cruise Booking which you have booked.
2 The Cruise and Travel Route shall be deemed to have commenced when you have boarded the Cruise Ship at the scheduled or substituted embarkation port, have cleared customs and immigration and have passed through the reception formalities to board the ship, notwithstanding when ocean navigation from the port commences. The Cruise and Travel Route shall be deemed to have been completed when you disembark at the final port of destination.
3 In the case of a repositioning or other international non-coastal voyage or cruise, or in the event of a package or multi-modal inclusive travel booking, then the Cruise Travel Route shall be deemed to have commenced when you have cleared through passport control and entered the international departure area in the country of your domicile or the departure point for your pre-cruise travel arrangements if covered in your booking, for the commencement of international travel by air, train or other means of conveyance in a multi-modal package booking.
4 The operation of the Cruise Ship is affected by weather and sea conditions, mechanical problems, duty to assist ships in distress, instructions of the Port and other authorities relating to departure and/or arrival and/or stoppages, the availability of Port facilities, and other factors which may be beyond MSC's control. MSC cannot accept liability or pay compensation where performance (prompt or otherwise) of this agreement is prevented or affected by factors beyond MSC's control.
5 For these reasons set out in clause 17.4, the date and/ or time at which the Cruise Ship is scheduled to sail and land are approximate only and may be delayed and subject to change.
6 MSC does not guarantee that the Cruise Ship will be able to depart the port of embarkation on or at the scheduled date or time, or at all; and/or call or stop at the Ports at which it is scheduled to call or stop; and/or that you will be able to go ashore on a planned shore excursion during the scheduled Travel Route; and/or that the Cruise Ship will travel along the scheduled Travel Route. MSC may change the Travel Route and/or Ports at which the Cruise Ship calls or stops if the master of the Cruise Ship ("the Master") considers it necessary to do so for any of the reasons set out above.
7 If for any reason, the Cruise Ship is unable to sail the Travel Route, MSC may transfer you to another ship or to any other mode of transport bound for the destination of your Cruise. 17.8 If the Port from which you are scheduled to board the Cruise Ship is changed by MSC, MSC will at its cost arrange for you to be transported to the Port at which you are required to board the Cruise Ship.