Oh Ship Cruise | 3 nights | Durban, Portuguese Island (Mozambique) and back (30 Nov - 03 Dec 2018)

Kick off your December holidays with this 72 hour non-stop party while enjoying the hottest tunes from some of South Africa's most talented DJ'S.

Join DJ Fresh and Euphonik for the 7th Oh Ship Cruise on board the MSC Musica. On this cruise it is all about the party and definitely not to be missed by House music lovers. Enjoy a 3 night non-stop party! The ship departs from South Africa, Durban harbour on Friday the 30th of November 2018 and cruises to Portuguese Island in Mozambique. It then makes its way back to Durban arriving on Monday the 3rd of December 2018. Along the way enjoy a day on the beach, filled with activities and a beach party that promises to be one you won't easily forget.

Come and cruise at the very best time to sail as the seas are calm and the weather sunny, ensuring the best possible setting for the best possible experience.
Highlights include:
All meals onboard (breakfast, lunch, afternoon snack, dinner & midnight snack) 4 restaurants to choose from
Pizza station, burger station and buffet open 20 hours a day
Daily onboard activities to choose from
World class live entertainment at various venues every night
Island beach excursions to Portuguese Island (weather permitting), with beach activities and beach bar-b-que
On board facilities include 4 Restaurants, 10 Bars/Lounges, 1 Outdoor Bar, 2 Swimming Pools, 2 Spa Baths, Spa/Relax area, Gym & Sports activities, Theatre, Casino, Discotheque, Games room, Shopping area, Photo Shop & Gallery, Library, Children's Playroom, Teenagers Club.
2017 Line-up featured:
DJ Loyd, Kid Fonque, IAMPH, Thando Thabethe, Ms Cosmo, Rob Forbes, Juston Toerien and more!!

2018 Line-up: TBA
CRUISE DETAILS
Itinerary
Day
Date
Port
Arrival
Departure
1
Fri, 30 Nov
Durban
....
15:00
2
Sat, 01 Dec
Portuguese Island [Overnight]
08:00
....
3
Sun, 02 Dec
Portuguese Island
....
07:00
4
Mon, 03 Dec
Durban
07:00
....
*Information subject to change as a consequence of final berth or anchorage effective availability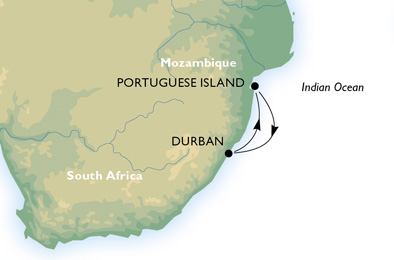 Inside Cabin layout  (view our photo gallery)


Cabins have the following amenities: 2 single beds that can be converted into a double bed (on request), spacious wardrobe, bathroom with shower, interactive TV, telephone, Internet connection (payable), mini bar, safe, air-conditioning.
On Board | With an extensive range of onboard facilities in a contemporary environment, the MSC Musica certainly lives up to her name - classic, grand, opulent - and really is a luxury cruise ship with something to sing about! A true sense of grandeur and spaciousness prevails on the Musica, one of MSC Cruises' most welcoming cruise ships. Enjoy endless choices by day and night, from the Irish Pub and Buddha Bar, to the Internet Café or casino. Stay active in a health club with expansive windows overlooking the sea. Savor the great outdoors as you jog around the track or swim laps in one of two pools. And make it an enriching vacation with Italian lessons at sea.
Cruise Information | Click here

MSC Cruises Cruise Schedule | Click here


Cancellation Policy
Once the booking has been made, you will have 48 hours to make a non-refundable R 3,500 per cabin deposit. Booking balance will be due 80 days prior to departure. For bookings where we are already within 80 days prior to departure, full payment will be required within 48 hours.
Cancellation penalties: Deposit 100% non-refundable / 79-60 days prior to sailing 50% of cruise fare / Less than 60 days before sailing 100% of the cruise fare.
Children policy
Under 18 years not allowed on this theme cruise.